Privacy and Information Security Policy
When you use our services, you're trusting us with your information. We understand this is a big responsibility and work hard to protect your information. No personal information is shared or sold to any third party. Furthermore, all information is handled in accordance with The Personal Information Protection and Electronic Documents Act (PIPEDA).
We are committed to respecting the personal privacy of individuals who visit this web site. We respect your time and promise to stick to our no-spam and no-up-sales policy.
---
Table of Contents
---
Why we collect personal information
"Personal Information" means any information relating to an identified or identifiable person. We only use your personal information for the purpose of providing you with the GCMS, CBSA or Entire File.
---
What personal information do we collect
We only collect personal information that is directly related to providing you with the GCMS, CBSA or Entire File. We collect the minimal amount of information required which includes your name, date of birth, email address, UCI, File number and visa type.
We do not require a copy of your passport to process your order; however in rare circumstances IRCC may request a copy once they begin processing your order. We will notify you via email if IRCC makes a request for a copy of your passport.
We do NOT need your mailing address or phone number under any circumstance. Also, we NEVER store your credit card information.
---
Who sees your personal information
Access to your personal information is restricted to only two staff members within our organisation who need the information to process your order.
We offer you peace of mind when you use our services because we will NEVER sell or trade your information for commercial purposes.
---
How we protect your personal information
In any organization, failure to protect personal information can increase the risk of a privacy breach. These privacy breaches can lead to things such as reputational harm, fraud or identity theft.
We use exceptionally strong safeguards to protect the privacy of all our records, including your personal information. These strong safeguards are designed to prevent unauthorized access, disclosure, loss, theft, copying, use or modification to your personal information. Technical measures include passwords, audit trails, SSL encryption, firewalls and other technical security safeguards. Furthermore, we conduct periodic audits to ensure security of all the services.

Cloudflare is one of the biggest networks operating on the Internet. People use Cloudflare services for the purposes of increasing the security and performance of their web sites and services.

Netlify is an all-in-one platform for automating modern web projects. Netlify enables a 10x faster path to much more performant, secure, and scalable websites and apps.

Google Workspace is an integrated suite of secure, cloud-native collaboration and productivity apps powered by Google AI.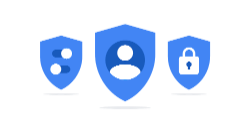 Google's strongest security helps keep your private information safe. Our account is defended by Google's strongest security features that safeguards users with high visibility and sensitive information.
Our web-infrastructure and website-security is managed by GoDaddy.com, Netlify.com and Cloudflare.com. We use Google Workspace for email and office productivity. Our electronic signatures service for the Consent form is provided by SignNow.com
For credit card transactions we operate exclusively with PCI compliant payment processors like Stripe.com and PayPal.com and never store your credit card information.
Our business is based on trust and transparency and we are committed to keeping your information safe and secure.
---
Consent form
The consent form you provide us to order your GCMS, CBSA or Entire File is NOT reused if you chose to re-order your file at a later date. To be complaint with industry standards for managing personal information we will need a new consent form each time you place an order with us.
---
Retention and destruction of personal information
We erase or destroy the records containing personal information when they are no longer required; this is always done in ways that will ensure your continued privacy. After 30 days your GCMS, CBSA or Entire file is removed from our server for your security.
---
Cookies
In building our website we do NOT store cookies in your browser. There are third-party services we use with this ability; these services include Stripe.com, PayPal.com, YouTube.com, Twitter.com and Cloudflare.com
---
Fraud prevention
The fight against fraud starts with you. Discover free resources that are available to help you recognize, reject and report fraud.
---
Changes to our policy
We may need to change this policy from time-to-time and all updates will be posted online.
---
Questions
Please feel free to contact us if you have any questions about this policy or about how we manage personal information.
---